Industrial safety barriers are used to protect the safety devices of personnel and machines. The changing production requirements at ever-faster speeds and the constant expansion and adaptation require a flexible and time-saving safety system.
It is the most flexible system in the range; the fence has different heights and the panels of standard widths, allow adapting it to almost any requirement of use.
A system that goes beyond machine safety; its solidity and a competitive price, make it an ideal solution to protect any area where security comes first.
The Kaap Safety Fence is simple to install: The fully prefabricated safety fence element is ordered and can be assembled easily and quickly by just one person.
Kaap Fence has further developed the proven security fence system and offers two different ways: 'The Basic System'and 'The Allround System ',you will have a versatile, safe and economical for all Kaap Fence products.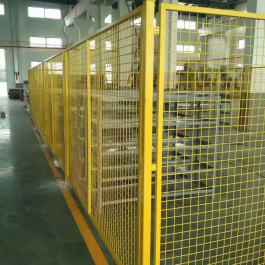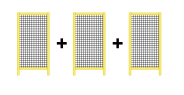 The Basic System
The Basic System is the "classic" among the Robotunits Safety Fence Systems. Simple in application and cheap in price. Ideal for standard applications in machine building and manufacturing automation.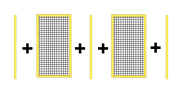 The Allround System
The allround system offers high flexibility. The single panels are simply positioned between the pre-assembled posts, and are assembled as required. The panels can also be easily removed and refitted. This is ideal for creating large openings, for example; when accessibility is required whilst swapping out a machine or during an inspection.
Materials:
Mild steel wire, Superior quality low carbon steel wire
Surface Treatment:
Electro galvanizing, hot-dipped galvanizing or PVC coating can be done separately. PVC coated after welding of steel wire.
Specification:
Length: from 1000mm to 3000mm
Height: from 1000mm to 2000mm;
Mesh size: 25mmx100mm,50mmx100mm, 50mmx200mm, 75mmx75mm, 75mmx100mm, 60mmx150mm…
Wire diameter: 2.0- 5.5mm
Support post: 40mmx40mm, 50mmx50nn,60mmx60mm,80mmx 80mm;
Post thickness: 0.8mm - 3.0mm;
All specifications can be required
Different specifications are available according to customers' special inquiry or detailed drawing.
Single gates
Length : 1.2m and 2.0m;
Wide: 1.0m,1.25, 1.5m, 2.0m and 2.5m;
Custom Doors Sizes Available.
Twin/Double gates
Length : 1.2m and 2.0m;
Wide: 1.2m,2.2m,2.4m,2.8m,3m,3.2m,3.4m,3.6m,3.8m,4.0m,4.4m,5.0m;
Custom Doors Sizes Available.
SLIDING DOORS
Single sliding doors up to 2.5 meters wide;
Twin sliding doors up to 5.0 meters wide;
Doors Length : 1.2m and 2.0m;
Doors Wide: 1.0m,
1.25m,
1.5m,
2.0m,
.5m,
3.0m(2x1.5m),
3.5m(1x1.5m,1x2.0m),
4.0m(2x2.0m),
4.5m(1x2.5m,1x2m),
5.0m(2x2.5m),;
Custom Doors Sizes Available.