1,Product Description: Double wire fencing uses hiht quality low carbon stainless steel wire as raw material. It is welded with one vertical wire and two horizontal wires; this can be strong enough, compared to the normal welded fence panel. The wire diameters are available , such as 6mmx2 + 5mmx1, 8mmx2 + 6mmx1. It obtains high strong powers to resist the construction. Post: This system usually choose square post (50x50mm, 60x60mm), Rectangular Post (80x60x2.5mm, 120x60x3mm) and peach post with the high strength and so on. With plastic caps or Roofing rain hat. The finished surface usually is Galvanized and powder coating, or alternatively. Double wire fence has simple structure ,firm and durable,easy to difficult to fade , so mainly used in highways,airports,railway stations,service areas ,airports,ports and other fields,using high quality of iron wire as raw material,and welded panel ,after galvanized and powder coated is anti-corrosion and anti-oxidation.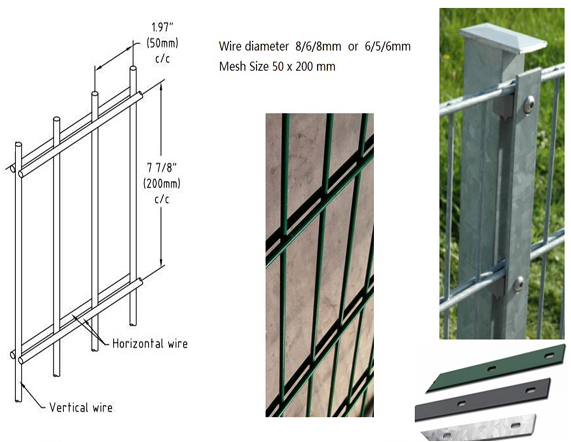 Design advantage:
The fence is composed with flawless welded steel post and high strength welded horizontal wire fence,flat and strong panel with high tensile strength
It is a high security fence system, the parts are connected with special way without fitting,high fastening and convenient installation.
2. Surface Treatment

Welded Double Mesh Fence
Fence Panel

Wire Diameter(Common Wire Type)

8/6/8mm, 6/5/6mm, 5/4/5mm, and material is Q195, Q235

Mesh Size

50*200mm /55*200mm/50*150mm/55*100mm, can be customized

Panel height

From 0.4m - 3.03m

Panel Width

2.0m, 2.5m as standard

Surface Treatment

Hot-dipped Galvanized then PVC coatingElectric Galvanized then PVC coatingHot-dipped Galvanized

Fence Post

Dimensions of Type

Rectangle post/Rectangle post/Peach post/Round post, material is Q195-Q235, most common is 60x40mm post:Post (4 options with different sections)
•60x60mm and 50x50mm SHS steel Post
•40x60mm RHS steel post
•50x70 and 70x100 Peach shape post
•48mm and 60mm Round section post

Surface Treatment

Hot-dipped Galvanized then PVC coatingHot-dipped Galvanized

Fence Accessories

Clips/Clamps(Link Post and Panel)

Metal Clips and Plastic Clips, there are over 6 type as choice

Rainhat or caps for posts

Metal caps or plastic caps
Double Wire Fence/Twin Wire Mesh Fence
Height*Width (mm)
Hole Size(mm)
Wire Diameter (mm)
Post of Height (mm)

630*2500

50*200

8*2+6

6*2+5

6*2+5

1100

1030*2500

50*200

8*2+6

6*2+5

6*2+5

1500

1430*2500

50*200

8*2+6

6*2+5

6*2+5

1900

1830*2500

50*200

8*2+6

6*2+5

6*2+5

2400

2230*2500

50*200

8*2+6

6*2+5

6*2+5

2800

2430*2500

50*200

8*2+6

6*2+5

6*2+5

3000
The application of our double wire fence:
Power station, commonality construction, jail, airport, military base, country border and other high security area and place. Extra choose the angle steel, barbed wire or razor wire fence to make more security.
Double Wires Fence Fastenings:
The panels and posts are jointed together with bolts or rivets, using the steel flat bar, or special steel clamps, all nuts are self-locking.This also can be designed as the special clients requests.